February 2021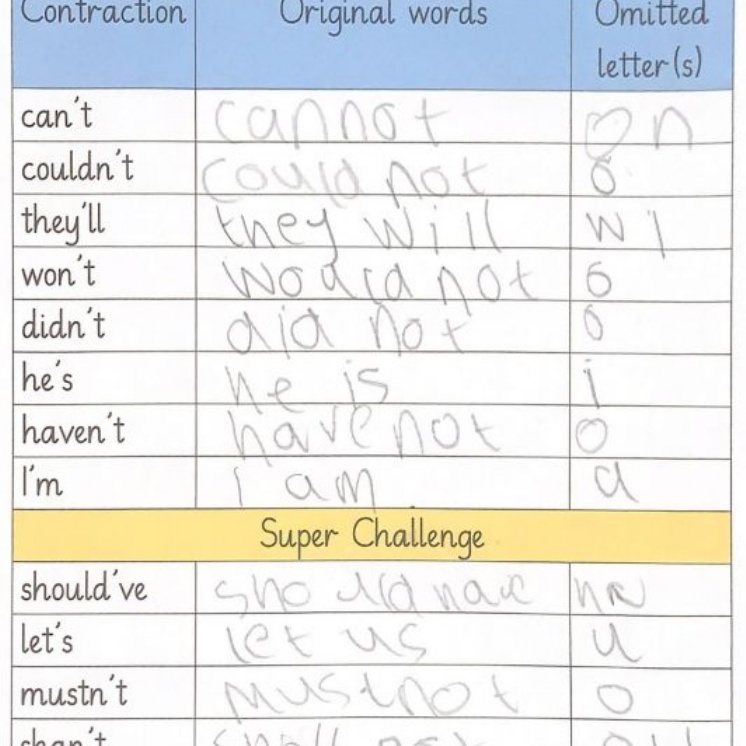 Our writing focus this week has been contractions. There were lots of great examples in the blogs, here are a few examples.
Brendon has been very busy this week completing his ASDAN work. He has also been watching Gordon Ramsey, I wonder if he has any ideas for recipies we can cook in school?
Today I woke up at 8.00 o'clock made myself breakfast next did my reading maths and asdan work. After I went outside did my exercise for two hours then came back in made myself lunch. In the afternoon I didn't do any baking because I didn't have any ingredients to make anything. In the evening had pie for dinner next I did just dance with my Brothers and Sisters. Finally I just chilled watching Gordon Ramsay.
Libby's blog is all about what she has done outside of her school work. It's nice to see that she is keeping busy and being a wonderful Auntie by helping to look after Hallie.
Today I woke up and got dressed, it was funny because what I was wearing matched Hallie's outfit. I couldn't believe that when Hallie tried to open the door and fell in her toy buggy it was funny, then I had lunch and for lunch I made my own lunch what was noodles. After lunch I played star stable and watched YouTube on my TV, I then played with Hallie but she was not happy and was very tired so my mum had to get her to have a nap before going out. Later my sister came round for dinner and for dinner I had chicken nuggets waffles and spaghetti hoops for pudding I had ice cream it was really cold, after dinner my sister bathed Hallie she loved playing with my schleich horses in the bath. I played with my horses and I couldn't wait to get a shower.
Luke has got everyone thinking about the weekend by mentioning the word lie in - it sounds wonderful! Can you spot his contractions?
We all had a little lie in today and I was pleased because I didn't have to set my alarm to get up with. I had my breakfast washed up my bowl and waited to start on my work of the day. I did my blog entry from yesterday since I forgot again. I then took the dog out for his walk, It was a little bit cold but walking around the block three times round made me a little bit hot when I got back. Then I got started on my reading, I read with Keith for a chance since mum was to busy with my sister. I then did that game of finding the contractions, it didn't take long because we put them on different sides. I then had free time to myself, mum and Zoe went up to see Leslie for a while and Keith went out to the shop to some stuff I had a go on my game as Keith said I can. When I finished one my game I decided to Watch my TV for a bit. At that time mum and Zoe was walking around the site ten times round in honour of Captain Sir Tom. When they got back mum put a pepperoni pizza in the oven for tea. I then got in a bath after my my sister got out, I emptied a little bit out so then I could put some hot water in. It was then bedtime so we brushed our teeth and got into bed.
Charlie has written an interesting blog, he has included lots of the different writing features that we've been focussing on over the past few weeks.
I got up at 8:30 and got ready for the day. Then at 9:30 I joined zoom wrap up season for English. After I left the zoom I want upstairs for a bit and watch YouTube. Then at 12 me and my step dad went to the shop and Costa. When we got back we had are Costa. After that we went back out to pick up my step brother for him to stay over for the weekend. Then I quickly joined the zoom for the holly warp up. After I left the zoom I took my sound bar downstairs for a bit and played some Basie music. Then at 15:00 I took my sound bar back upstairs and set it back up in my room. Then after a hour or so, I went downstairs to get dinner. And then we played bingo with my mum, step dad, little sister and step brother. After the game we watched "Harvey and me" again but this time with my step brother, then I went upstairs to watch another episode of this show I've been watching. It's called "chicago med" it's really good, and it's very realistic. And then after the episode was over, I chilled for the rest of the night.