January 2021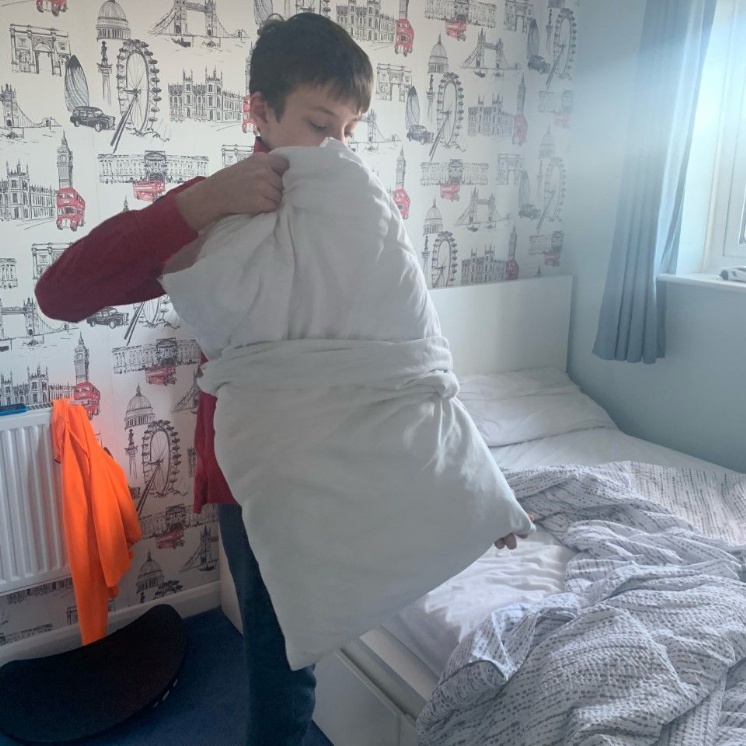 Week Three - Home Learning
We have some wonderful blogs here this week. Joseph has not only been completing the work he has been sent home but is also developing his independent skills by helping with jobs around the house. Well done Joseph!
Thursday 28th January
Firstly I cheerfully woke up and I made my breakfast. I did Joe Wicks with Amber. It was easy today! I learnt how to change my bed. I couldn't do the buttons very well but I got there in the end. I managed ok. I did my Maths challenge, it was hard but mummy got some right! This afternoon I built two lego cars. They are 2018 Dodge Challenger and 1970 Dodger Charger RT. My favourite one is the yellow one. It was a little bit tricky but it was ok.
Ethan has been working very hard during his time home learning. It's nice to see that he is letting himself still have some free time though. We would love to see a photo of the socks from Grandma, they sound amazing!
On Monday Callum's controller stopped working. He's a little bit angry.
Then on Tuesday my socks, knitted from my grandma, finally came to my house in the post.
Surprisingly, I woke up with my alarm clock on Wednesday.
Pleased with doing Joe Wicks.
I played Fortnite on my PS4 Thursday.
This morning, I woke up on my alarm clock again. I played Fortnite on my PS4, after my school work. I enjoyed choir and Joe Wicks. Nice to speak you. Goodbye. - Ethan
Tom started work on an ASDAN module last week. He has recognised how it can help him when he leaves Fitzwaryn and has been putting a lot of effort into it.
Thursday 21st January 2021
Excited, today I started the World of Work ASDAN module. I am really looking forward to start it because I get to see what I will do in the future. I hope to someday work in the FIA Formula 1 World Championship. I hope to work with Mercedes AMG PETRONAS F1 Team, McLaren F1 Team, Scuderia Ferrari or Aston Martin Cognizant F1 Team, for example. Since Williams Racing is so close to home I hope to get work experience there.
Later I had breakfast for dinner. By this I mean cooked breakfast with bacon, black pudding, sausages, hash browns and beans. It was tasty.
I was on Zoom for about an hour and a half today. The intention of the calls are for teachers to help students with with work if they need any help. I didn't need any help with anything this time around.
Brendon's focus for this blog was to include contractions in his writing. Can you spot where it is in his blog?
Today I didn't do my exercise because I have been really busy doing my Asdan work, next I listened to my music then had lunch. In the afternoon I made apple crumble after I did some more school work, next I did some colouring with my Brothers and Sisters. In the evening I made Lasagne for dinner then talked to my friends on facetime and played Roblox with my Brothers and Sisters. Finally I just chilled watching Star wars whilst eating my delicious apple crumble.