January 2021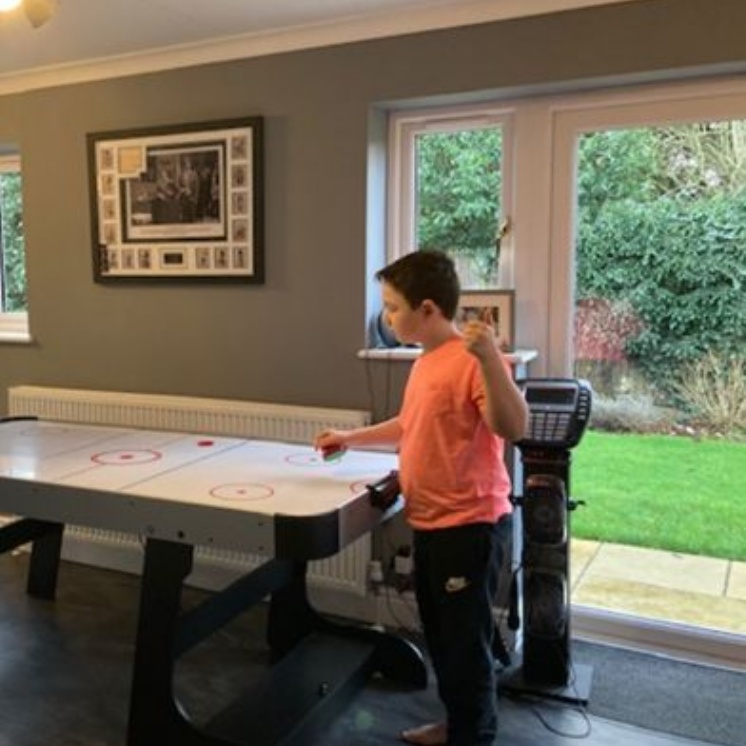 A brilliant blog from Charlie. He has been keeping himself very busy during his time learning from home.
12.1.21
7:45 I got up and got ready for the day. I went to get breakfast. Then at 9:15 I joined the zoom call for maths. Afterwards I went upstairs to watch some more mountain biking videos and crazy carts videos. Some of the mountain biking videos were fails so I almost died of laughter! After watching some videos, I went downstairs to get some lunch and then went back upstairs and started my maths work, and it took a little while to do as the Internet wasn't working as fast! Then at 14:30 I joined the Holly catch up on zoom, it was nice to see everyone. At 17:15 I went down to get dinner. When I was done with my dinner, I went back upstairs to watch some more videos for the rest for the evening.
This person has been making full use of his new air hockey table. He has written a great blog to tell you all about this as well as some updates on how his home learning is coming along.
As I been very busy at school creating my scrapbook, during my downtime I like to play air hockey in the bar with my Brother (Leo).
Me and my brother received the air hockey table as a Christmas present and I love playing on it with him.
Do you know where hockey is the national sport?
Often I beat my brother at air hockey as we play first to score 10.
Also during downtime I play on my Wii u games and my favourite is Just Dance.
It's lovely to see so many people working independently, especially on their ASDAN work. Charlie is planning a trip to the cinema as part of his course work. This is a really important module because it will help him in the future.
Wednesday 20/1/21
I played Star Wars Battlefront II with triple XP on. I played as Rey with a lot in heroes vs villains. Now she is level 91.
I did a PE with Joe workout today. In between the moves Joe asked a crazy question which was where is a shrimp's heart located? The answer was in its head.
I did some independent maths work today. It is about planning a birthday cinema trip to watch Star Wars The Rise of Skywalker. Having done that, it was time for the ASDAN call of the week.
I watched the Joe Biden inauguration. It was interesting to see what was happening.